Yesterday I was juicing, something I do a lot of on the weekends.
It was a pretty typical juice, some carrots, celery, cilantro, an apple, and a little citrus. It was delicious. What I often do is save the fiber and repurpose it, use it, in another food dish later on that day. That fiber can be used in all kinds of things like veggie burgers or baked in muffins etc. Yesterday I juiced all of the vegetables first and separated the fiber knowing I was going to make something savory with it.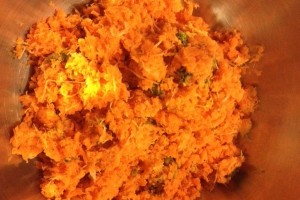 I had the urge for some kind of vegan sandwich filling, which is weird because I do not eat a lot of sandwiches. I thought that carrot, celery, cilantro fiber would be perfect to add to something. What would that be? Un-Tuna!
What is Un-Tuna? A Vegan Tuna salad with no tuna!
In this case I substituted garbanzos. It was so simple but so delicious!
Here is the recipe:
1 can of garbanzo beans – In my whole kitchen I have one thing in cans…beans! Because you just can't make beans in an instant.
I put them in a big bowl and mashed them with a fork into a thick chunky paste.
To this I added:
1/4 of a small purple onion
1 stalk of celery – diced fine
1/4 avocado – for creaminess, since I do not use Mayo
Juice of 2 small lemons
1-2 tbsp Apple Cider Vinegar
Salt to taste
Then I added in the fiber from my morning juice, the carrots, celery and cilantro.
I mixed it all up and adjusted the taste.
There is all kinds of things you can add to something like this. Use your imagination and add or subtract according to your taste. I like to add a little cayenne pepper or maybe a splash of hot sauce. You could add bell peppers, cucumbers, pickles, olives or any other food you like.
Pile it high on your favorite bread with a couple of slices of avocado and some fresh romaine lettuce. I loved it and you will too!
If you have good vegan recipe, share them with us. You just might see them on our website one day!
Go Eat Vegan!