People think that during the Holidays you have to break your healthy diet practices and indulge yourself in all the wrong things to eat! That definitely is a possibility but it does not have to be that way. Just because it is Christmas I have to give up my Vegan Diet? Heck no!
My way around it is to take food with me to the family reunions. By now you know I love the kitchen. I like to cook. The family has also figured this out and so I usually am in charge of bringing something to the family get togethers. Now if I am going to cook for the family…Am I going to cook what they like and eat?…or what I like and eat? The advantage of being the chef is I get to cook whatever I want and the way I want. So I cook Vegan! None of our extended family is vegan! But no one even mentions the fact that my food is vegan. Why?
Because good food is good food! Right?
Of course I made Christmas Vegan Tamales with a 3 Mushroom, Kale, Potato and New Mexico Red Chili stuffing. Yum! I made a Nopales (Cactus) Salad that was to die for! You will probably see that recipe here soon. I made a huge green salad chocked full of veggies. Really Good! And the simplest thing I made was what got all the people out of their seats and jumping for joy. They went bonkers for this Simple Fresh Mushroom Salsa! Yes, this little salsa was the big star of the night!
Fresh Vegan Mushroom Salsa
Here is what you need: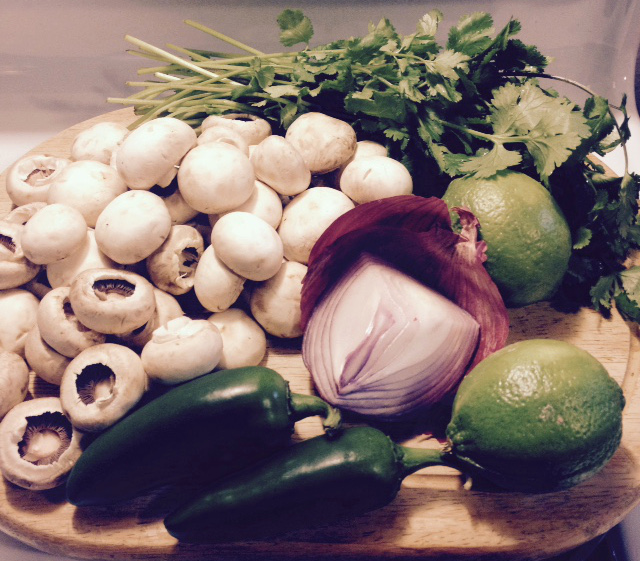 1 pound Button Mushrooms – This is 2 of the normal boxes of mushrooms you find at the market – Cleaned and de-stemmed. You can include the stems if you want to but they taste a little different and are a little tougher than the mushroom caps.
1 Medium Red Onion – I used about 1/2 diced in my salsa
1 Bunch of Fresh Cilantro – diced
1 Clove Garlic – chopped fine
4 Fresh Jalapeno Peppers – De-seeded, de-veined and diced
2 Limes – Juice added to salad
2 Tbsp Apple Cider Vinegar
Salt to Taste
Combine all the diced ingredients in a bowl. Add lime juice, Apple Cider Vinegar and Salt to taste. I like to use both limes and Apple Cider Vinegar. The limes add that Limey sour taste and the vinegar the tartness. Although I used 4 Jalapeno Peppers, the salsa was not spicy hot at all. The next time I will probably leave the seeds and veins of 1 of the Jalapenos to make it a little more spicy. I used no oil in this salsa. The above is only a guide, add and subtract based on your tastes.
I made it early in the day for a 9pm Christmas dinner so the flavors to combine together. They say that this salsa tastes even better the next day. I never got a chance to confirm that theory. All that was left was an empty bowl and orders for more! You have got to try this Fresh, Crisp, Tasty Vegan Salsa!